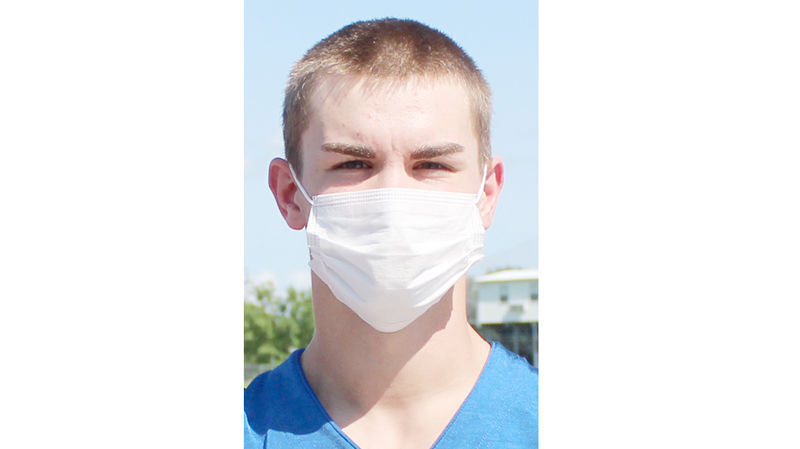 PLATTSMOUTH – Owen Prince received one of the happiest surprises of his life this weekend when he learned he had been honored by the National Football League.
Anchors on the NFL Network announced Saturday morning that the Plattsmouth junior had earned the NFL Way to Play High School Award. The league is honoring one high school football player each week for demonstrating exceptional in-game playing technique on the field. Prince was the first athlete selected for the national award during the 2020-21 school year.
Prince was in his bedroom when he heard his stepfather ask him to come out to the living room. His aunt then surprised him by showing him a message on her phone that said he had won.
"I was really happy and honored," Prince said. "I never thought in my life that I would be recognized by people that I grew up wanting to be like. I'm already a quiet guy, but this left me absolutely speechless."
Taylor Kielpinski-Rogers, director of communications for the NFL, told The Journal a group of NFL veterans felt Prince's performance during games merited recognition. Coaches from schools across the country could submit film clips of athletes showing proper offensive or defensive playing technique to the NFL.
A panel of judges reviewed the footage and chose Prince to receive the honor. All six judges are members of the NFL's football operations department.
"Through this initiative, and in partnership with Hudl, one high school player will be honored each week through June 2021 for displaying exemplary football technique," Kielpinski-Rogers said. "This award is voted on by a distinguished panel of NFL representatives including Troy Vincent, Jon Runyan, Roman Oben, Phil Bogle, Kevin Boothe and Jay Manahan."
Vincent played 207 games in the NFL and made five Pro Bowls as a defensive back for the Miami Dolphins, Philadelphia Eagles and Buffalo Bills. Runyan started 192 games as an offensive lineman for the Houston Oilers, Tennessee Titans, Philadelphia Eagles and San Diego Chargers, and Oben started 130 games as an offensive lineman for the New York Giants, Cleveland Browns, Tampa Bay Buccaneers and San Diego Chargers.
Bogle started on San Diego's offensive line in 2003 and helped LaDainian Tomlinson rush for more than 1,600 yards that year. Boothe was an offensive lineman from 2006-14 and started 62 games during his career. Manahan is currently director of football communications and marketing for the NFL.
The league debuted the NFL Way to Play High School Award last year. Recipients came from schools of all sizes across the nation. NFL Network analysts talked about each of the winners on air throughout the 2019-20 season. They will highlight each student in the same fashion this year.
Prince, a free safety on this year's team, has helped the Blue Devils win their first three games this season. He made one interception and produced four solo and seven assisted tackles in the season-opening victory over Blair. He generated one interception and three solo stops the following week against Ralston, and he helped Plattsmouth dominate Elkhorn North 34-7 this past Friday night.
Prince said he enjoys the freedom and excitement that comes from playing football. He said he is also happy having a chance to face quality opponents each time Plattsmouth takes the field.
"I think I enjoy just letting everything go and being myself," Prince said. "If you ask anyone on the team they would tell you I'm a different person when it comes to game time. I also just love the competition. No matter where or what I'm doing I want to stand out or at the very least be able to compete with the best."
Plattsmouth Community Schools will also benefit from Prince's award. Members of the USA Football organization will provide the school district with a $1,500 grant to purchase new athletic equipment.
Be the first to know
Get local news delivered to your inbox!